AFFORDABLE

PRICES

FRIENDLY

& TIDY

WORK

GUARANTEED

LATEST

TECHNOLOGY

DO YOU HAVE AN AREA OF WORN-OUT WOODEN FLOORING IN YOUR WOKING HOME OR OFFICE SPACE?
Has it been hidden under thick fitted carpeting for years, neglected and mouldering away? Natural, clean and tremendously attractive wooden flooring is all the rage now, so contact the Woking floor sanding and finishing experts to liberate a great asset in your property.
The Woking floor sanding teams have been refreshing the hardwood floors of Woking for 20 years, providing the full range of timber flooring treatments whatever the scale of the job. We use the latest models of sanding equipment, designed to limit dust-production, and eco-friendly finishes and stains to beautify and transform your floors. We carry out all the work quickly but with no sacrifice of quality, so you'll be inconveniences as little as possible.
​​PROFESSIONAL BACKING
We're not however one of those companies that is content to rest on its reputation. We've always believed in hard graft and improving our services to stay ahead of the game. As well as being a Junckers Approved Maintenance Contractor, we're members of:

·    The Federation of Small Businesses

·    The Guild of Master Craftsmen

·    The National Wood Flooring Association
For extra reassurance we carry £5million of insurance protection. You can see what some of our thousands of customers in Woking think of the Woking floor sanding team by checking out a few of our customer Testimonials.
​​​NOTHING TOO LARGE OR TOO TINY
Whether you have a staircase or patch or hallway parquet flooring that could use a sprucing up or a few square metres of ballroom timber flooring that requires extensive restoration, we can help you. From a sand-and-polish to a comprehensive renovation, our team of floor sanding experts in Woking are always here to help you out. We're committed to making every customer's wooden flooring the very best it can be. It starts with a free on-site assessment and finishes with a free cleaning kit and a beautiful floor!
For more information about floor services in GU22 Woking, continue to browse the site or contact us by email or direct line and we'll be delighted to arrange everything for you.​
LATEST NEWS, RECOMMENDED ARTICLES & TIPS
How long does it take to sand a floor?
If you're undertaking a DIY project to sand your floor and rejuvenate your old boards, then you need to seriously consider the amount of work that you are undertaking. Sanding floors, especially without the right specialist equipment, is a difficult process to carry out and complete. You may be better cutting your losses and opting to use floor sanding contractors, so here we explore the realities of sanding and treating a wooden floor.

Preparing the floor

Before you even begin sanding, you need to prepare the floor and make sure there is nothing that will destroy your sander. You may need to punch all of the nails deeper into the wood before you begin if they are sitting at the top level and you will need to ensure all carpet staples and anything else have been removed.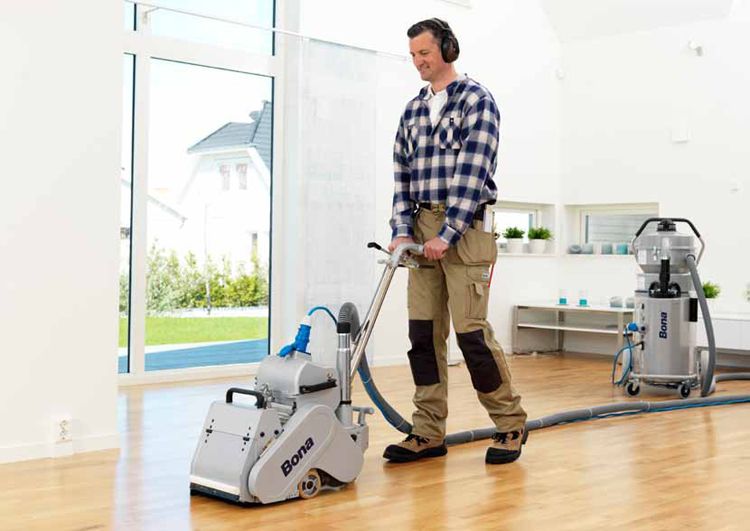 Repeated sanding

When sanding a floor, you won't just sand it once and be done with it. Instead, you will need to sand the floor repeatedly with different levels of grit. The grit of sandpaper is how coarse it is and relates to the parts per cm. When sanding the floor you will need to go over it with increasing levels of grit. The coarser paper will remove all of the varnish, scratches and grime, the less coarse paper will slowly smooth it all out and make it look as good as new.

Hand sanders

Using a hand sander to sand your floor is a false economy because of the sheer amount of time that it will take you to do. You need to use a proper standing sander so that you can quickly and easily cover the area that is needed. Even when doing so you will still need to change the paper regularly and you will use 10's of sheets of each grit paper in a standard room.

Treating the wood

Once you have sanded the wood and have it ready for the treatment, you should waste no time and should treat it to protect it as soon as possible. You will need to apply up to three coats of treatment to the floor to get the right finish and you will need to wait for a few hours between each coat to ensure that it sets properly.

So how long does it take?

How long it takes will depend on a wide range of factors but an untrained person can expect to take at least 48 hours of work time to sand and treat a wooden floor in a home. For working individuals, this can translate to months of free time spent treating the wood floor so you may be better placed to use floor sanding contractors to get it done.
For Gorgeous Wooden Floors Call 01483 905 039 Now
BEFORE & AFTER